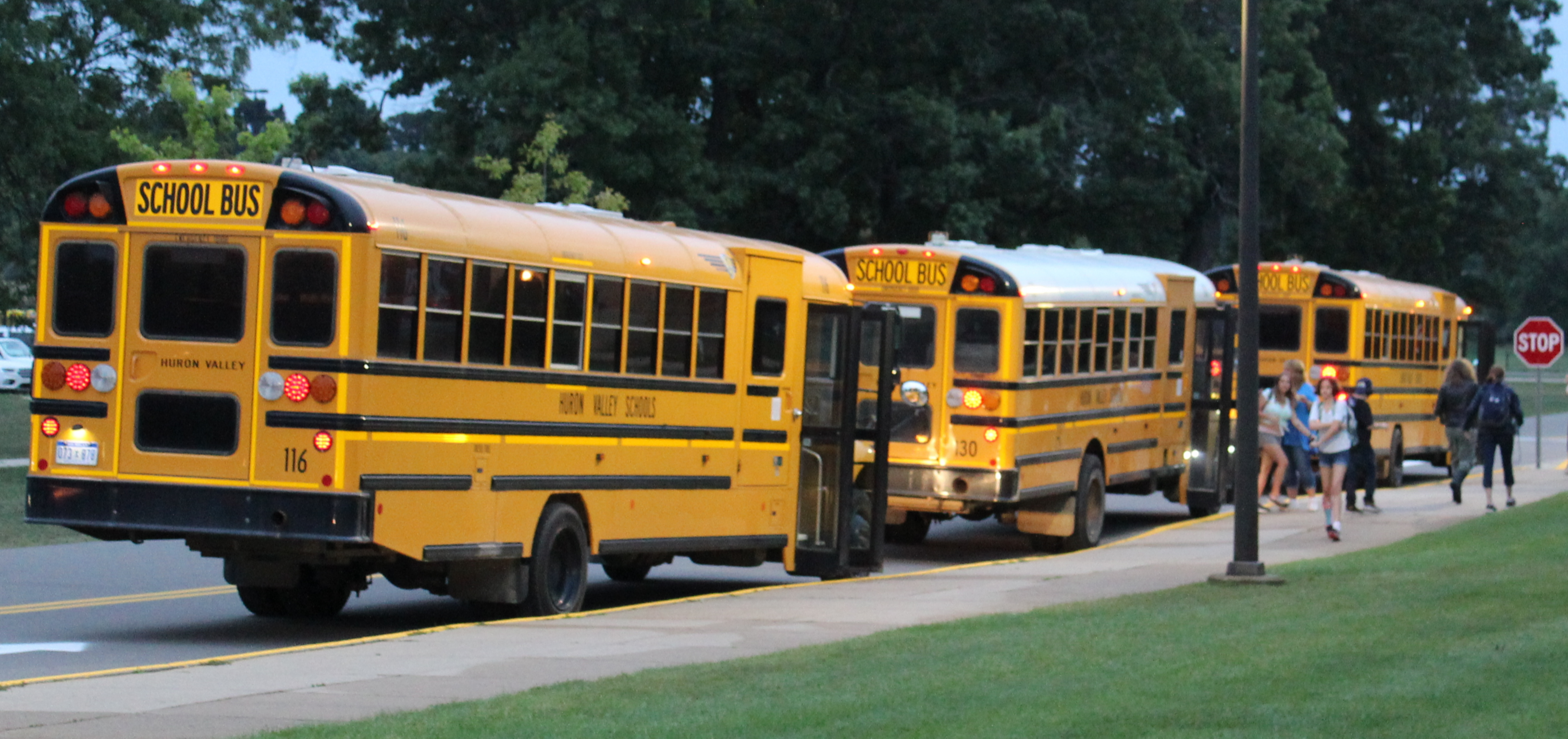 Our Schools / Our Students
Huron Valley Schools inspires and builds futures one student at a time. The district focuses on Academics, Arts and Athletics. It includes eight elementary schools, three middle schools, two traditional high schools, an alternative high school and an International Baccalaureate program.
HVS also offers educational alternatives and supplemental programs for students with special needs at every grade level.
Unlike many districts, Huron Valley Schools offers a Junior Kindergarten program. The program is free to families with age-eligible children who would benefit from a two-year kindergarten experience and features a play-based learn-by-doing curriculum. Students also participate in art, music and physical education classes.
The Huron Valley School District also offers a building-wide early childhood center that offers a strong foundation for our youngest learners which helps them get ready for the years ahead.
HVS has a 96% graduation rate, with more than $10M worth of academic scholarships given to students. Nearly $1M of those scholarships are offered in Arts, Music and Theater.
We have 120 sports teams offered across our middle and high schools. Nearly 90% of students who go on to compete at the collegiate level receive scholarships.
Huron Valley Schools offers nearly 50 clubs and activities at our middle and high schools. Our music programs, robotics teams, sports teams and extra curricular teams consistently receive state and national recognition.
Strategic Plan
Huron Valley Schools 2023-2028 Strategic Plan is designed to foster and continue focus upon excellence in education and to help ensure that our students excel in the world of work, college and advanced course work. Over 70 people including administrators, teachers, staff, parents and community members took part to create the roadmap for the next five years which includes a mission, vision, five separate goals, objective statements, action steps, timelines and accountability mechanism.
The Strategic Plan focused upon five goal areas:
1. Innovative Programming
2. Resources and Infrastructure
3. Marketing and Communications
4. Social Emotional Learning Supports and
5. Safety and Security
To read more about Huron Valley Schools 2023-2028 Strategic Plan, click here.
District Size
The Huron Valley District covers 99.6 square miles encompassing the Village of Milford, Milford, White Lake, Highland and Commerce Townships. With a student count of nearly 8,000, the District ranks 16th out of 28 Oakland Districts in the number of students it serves. We employ approximately 500 teachers and nearly 1,200 staff.
Accreditation Status
Huron Valley Schools is part of the Michigan Accreditation Program. All elementary schools are summary accredited. Both Milford and Lakeland High Schools are fully accredited by the North Central Association, as well as Muir, Oak Valley and White Lake Middle Schools.
Code of Conduct
Huron Valley Schools believes students have the right to pursue their education and develop their potential in a positive learning environment. The effective school setting is the result of strong leadership, high expectations, and a clear definition of purpose understood and supported by students, staff, parents and the community. The purpose of the Code of Conduct is to define those behaviors necessary for a productive learning environment. The Code explains the rights and responsibilities of students. It defines offenses and standardizes disciplinary procedures for students who violate the Code. The provisions in the Code apply to all students in Huron Valley elementary and secondary schools.
Recreation & Community Education
Huron Valley Schools offers numerous programs through our Recreation & Community Education Department. The following programs are offered to both children and adults:
Youth and Adult Sports/Recreation Programs

Youth and Adult Enrichment Programs

Empower Hour - Youth before/after school enrichment programs

Gymnastics @ Brooks Center

Land and Water Fitness Classes

Lakeland Lap Pool Open Swim

Special Events - family-friendly throughout the year