Huron Valley Schools alumna Dr. Kat Lewitzke, PsyD LP is a recipient of the Oakland County 40 under 40 class of 2023.
(Dr. Lewitzke with Oakland County Executive David Coulter at reception)
Dr. Lewitzke owns and operates a private mental health facility in Clarkston and West Bloomfield. They specialize in offering mental health services for kids and families. Bright Pine Behavioral Health provides both therapy and neuropsychological assessments.
Dr. Lewitzke graduated from Lakeland High School in 2004, she also attended Oak Valley Middle Schools and Country Oaks Elementary. Not only is she an alumna of HVS - she has a bit of fun family history within the district, her mom Natalie Lewitzke named Country Oaks Elementary, there is a plaque at the school in her honor.
Approximately 175 candidates, born after December 31, 1982, applied for the Oakland County 40 under 40 recognition. A panel of independent judges selected the new class. Among the members are a cancer researcher, a reading specialist, a city finance director and firefighter, a lawyer and young leader in the Jewish community.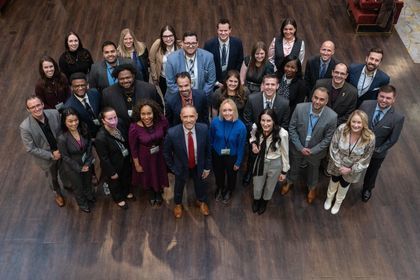 (Oakland County 40 under 40 recipients at reception)

40 under 40 Oakland County page: https://ww.oakgov.com/Home/Components/StaffDirectory/StaffDirectory/886/138?fbclid=IwAR1Y-WytrBDirFc7N_FGkny7bt-P6X69tPnQBSbX-GXOiBSkKcssDl-64f0
Bright Pine Behavioral Health website:
www.brightpinepsychology.com