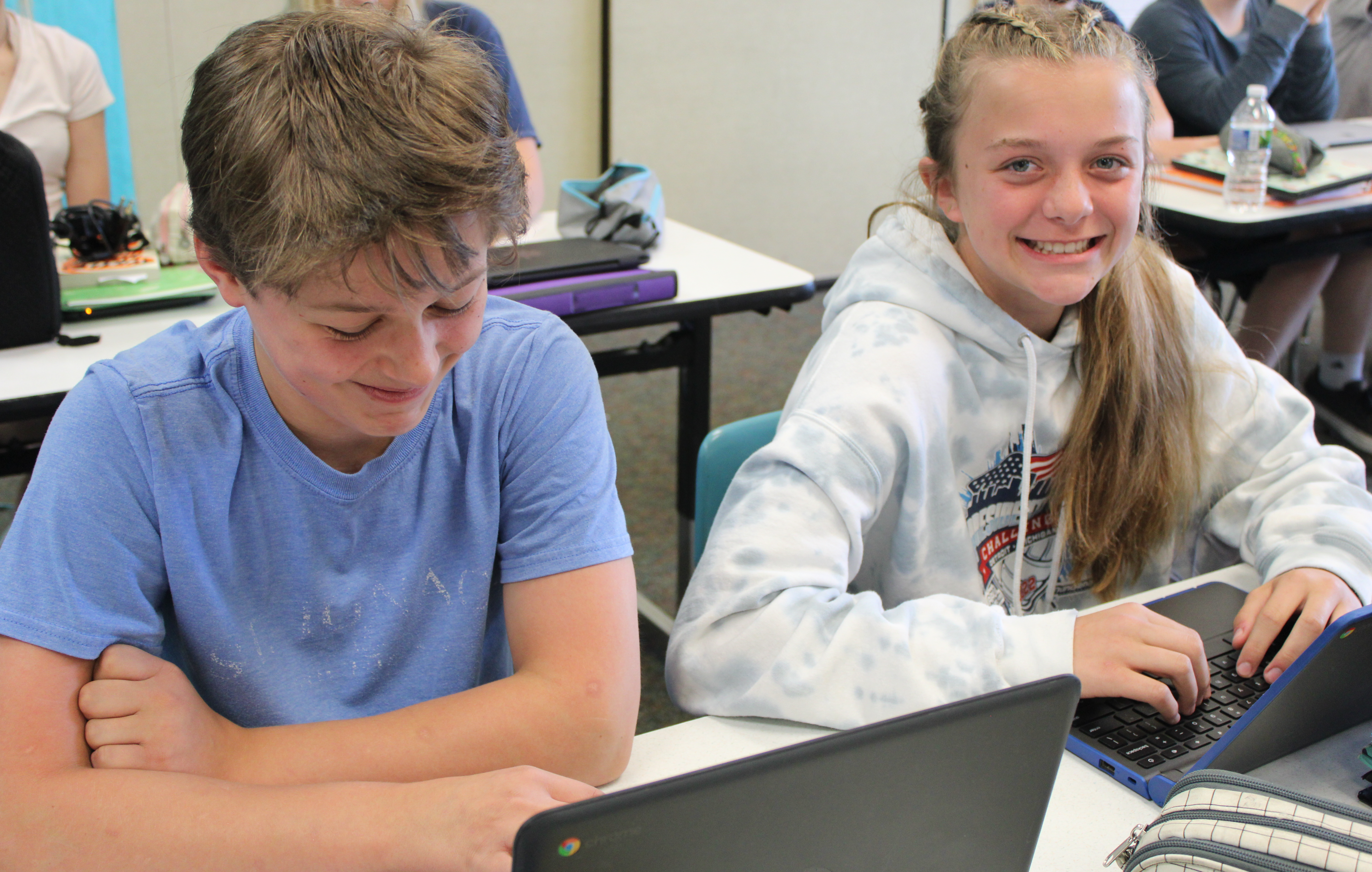 6th Grade English Language Arts (ELA)
As outlined in state standards, this course continues components of readers' and writers' workshops to build on connections between reading and writing. Using many mentor texts we will explore the three main genres of reading and writing: narrative, informational, and argument. For each of these genres, sixth grade students will build a foundational understanding of their components and organizational structures. In addition to whole class texts, students will continue their independent reading to build on comprehension, critical thinking skills, and reading stamina.
7th Grade English Language Arts (ELA)
In this course, students will continue developing their skills in the four areas of language, including reading, writing, speaking, and listening. Throughout the year, students will further gain understanding of the importance of grammar and vocabulary, as well as, becoming better communicators and collaborators while participating in multiple classroom activities. Students will read various forms of text during the foundational, informational, narrative, and argument units. In addition to reading novels independently, students will also participate in a whole-class study of the novels, The Outsiders and The Giver. Further, students will advance their writing skills in various ways that include in-class topics, a personal narrative, informational research report, literary analysis, and an argumentative speech. 7th graders will also improve their organizational skills by keeping all relevant materials in a binder to build a learning portfolio. More personal growth and independence are achieved by collecting and critically evaluating work they and their peers produce.
8th Grade English Language Arts (ELA)
The 8th grade curriculum requires a considerable amount of writing. Much of the year will be spent working with grammar, vocabulary, reading strategies, and essay writing. The 8th grade ELA curriculum is broken down into 3 units of study, but they all include these goals:
To improve student writing

To develop strong grammar/vocabulary/literary skills

To improve reading and literature analysis skills and reading stamina

To develop skills that will aid students in high school
In the Foundations Unit, students will focus on reading and writing strategies, review grammar basics, learn various sentence structures and study words in context. Students will produce a coherent narrative piece within this unit.
In the Informational Text Unit, students will sharpen their critical thinking by reading and analyzing multiple forms of informational and Argumentative texts to find relevant evidence. They will learn about claims, counter-claims, evidence, commentary, and differing points of view during this unit. Students will produce a research paper and a multimedia argument speech on a topic of a current social issue that is presented to the class.
In the Narrative Text Unit, students will read multiple narratives to connect with characters, identify their point of view, and determine themes. Students will read and analyze a piece of literature and produce a literary analysis within the unit.
English Language Arts Foundations (all grades)
This course aims to provide students with additional support for both reading and writing. Students receive individualized and small group instruction based on their current needs. This course is intended to help students build the necessary skills to comprehend texts in all subject areas. *Students are recommended for this course based on multiple metrics (NWEA scores, district common assessment data, teacher feedback).