Next Friday & Saturday, HVS will host two events for seniors: A performance by the talented Muir Middle School Jazz Band on Friday, June 3, and a Senior Luncheon on Saturday, June 4, including a performance by the also-very-talented Milford High School Center Stage Choir. Both events are free, but RSVPs are required. See fliers for details. Please share with parents, grandparents and other seniors you know. We are looking forward to seeing our students shine for the community. 🌞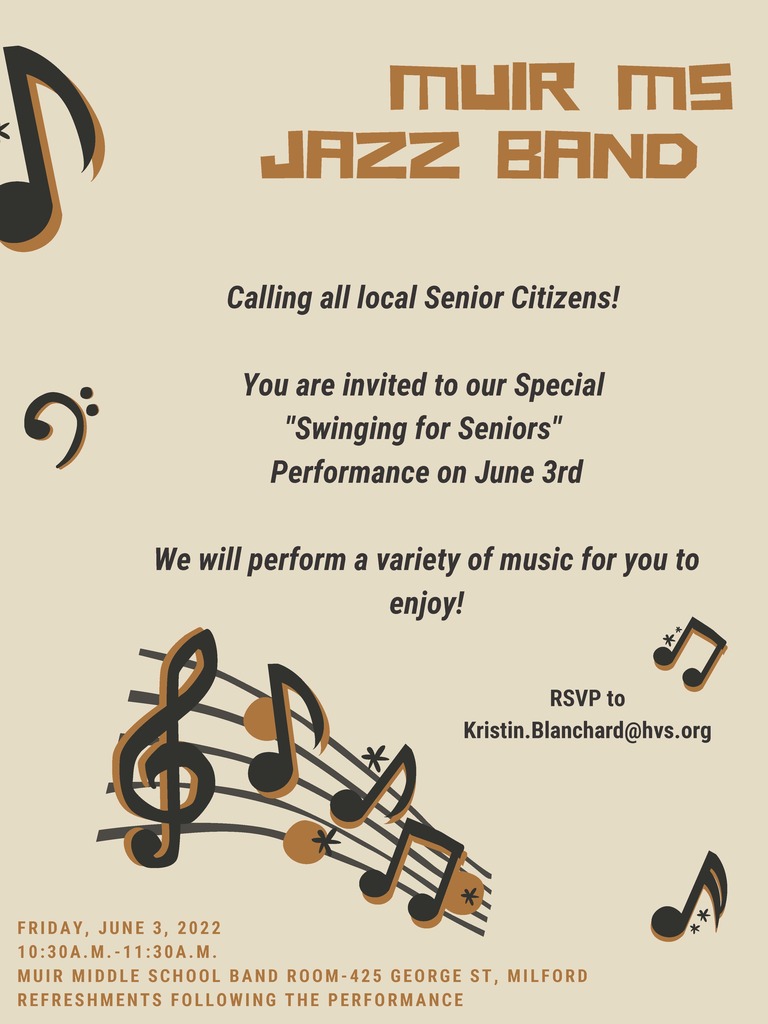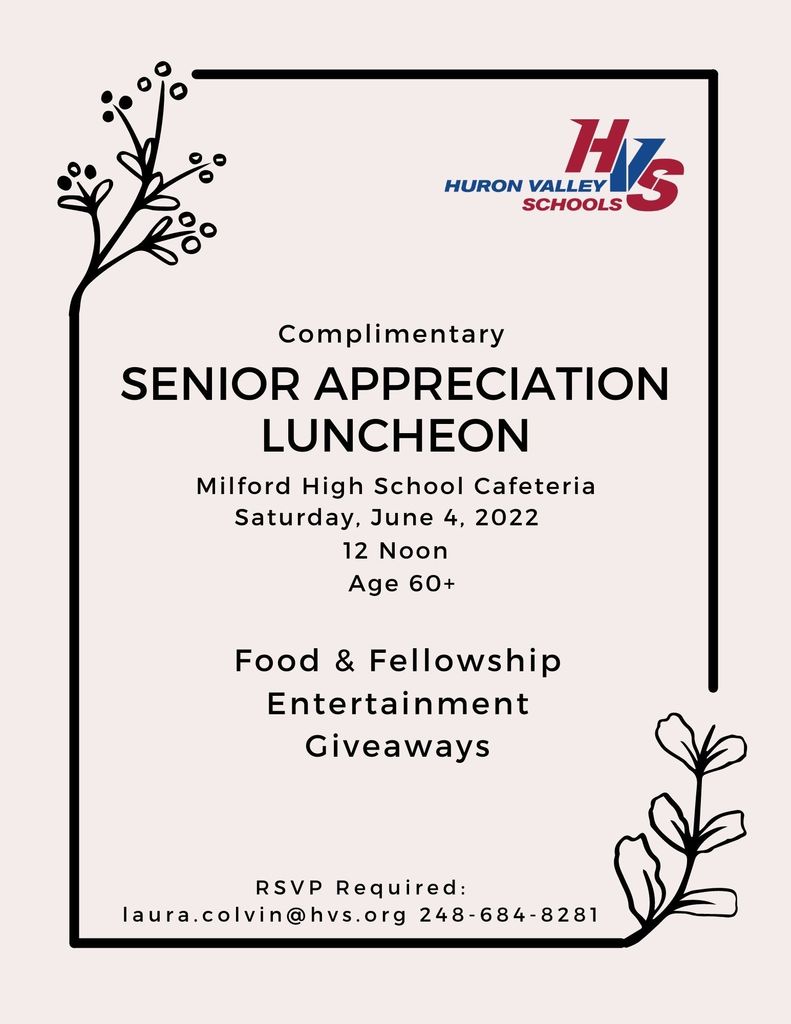 Lakewood 5th Graders successfully completed their T.E.A.M. program with the White Lake Police Department. As a thank you for their hard work, they were given T-Shirts. Thank you WLPD!

The Spring Fair is THIS Friday, May 20th, 2022 from 5 to 8 pm! We still need volunteers to make the night possible. Please take a look at what's available on the Signup Genius, and be sure to click "more" to see the second half of the signup. Even if you can't volunteer your time, we are looking for a few supplies. By the way, older siblings, grandparents, neighbors, aunts, and uncles make great volunteers, too. Lakewood Spring Fair 2022 We still need donations of individually wrapped candy/treats for the Candy Walk (like a cake walk, but with candy). There is a bin in the vestibule at Lakewood for donations. We thank you for your support. Reminder: Tickets are required for games and activities. See flyer for ticket purchase dates/times. Food trucks will be on-site with a variety of food options. They will be accepting cash or credit.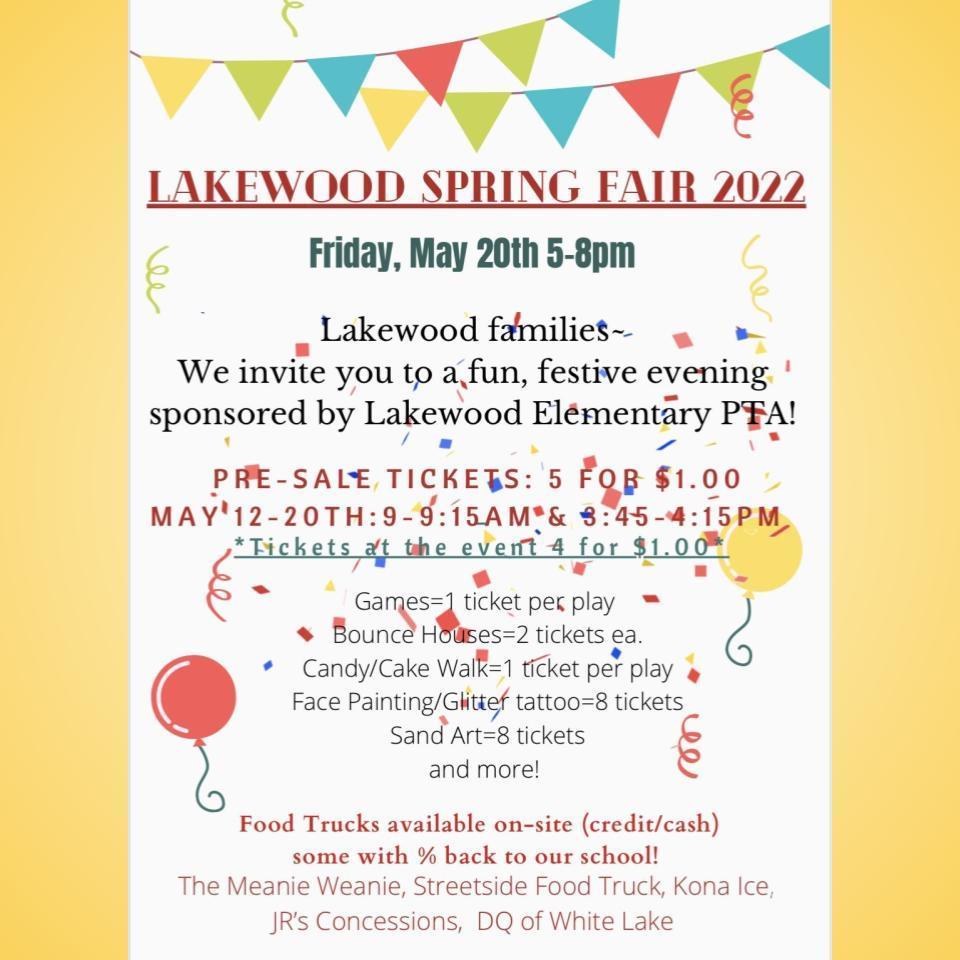 From the Lakewood PTA: NEW THIS YEAR... Now is your chance to win a personalized VIP parking spot for the 2022-23 school year!! Parking spot #1 and #2 will be raffled off at the Spring Fair!! 52 raffle tickets will be sold for each spot! Tickets are $40 each and can be purchased before or after school now though Friday and at the Spring Fair (while supplies last). We're so excited to bring this awesome event back to Lakewood!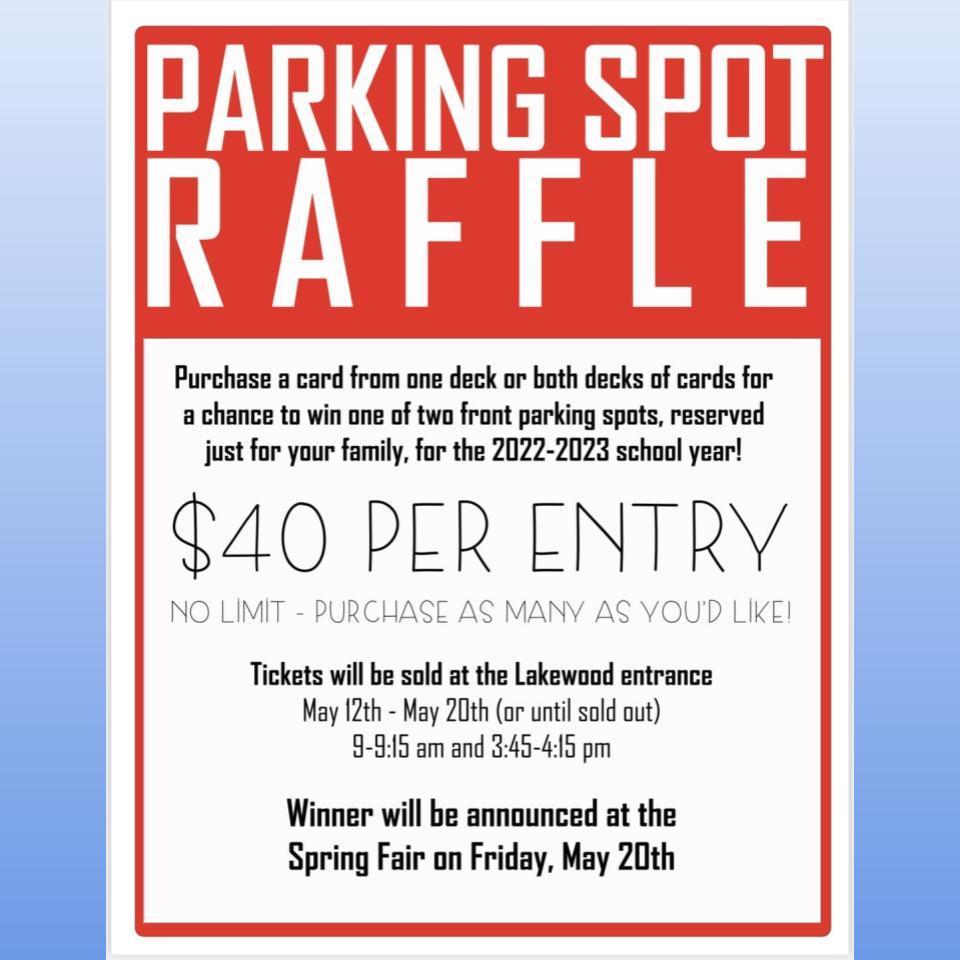 Dates to Remember as of May 17: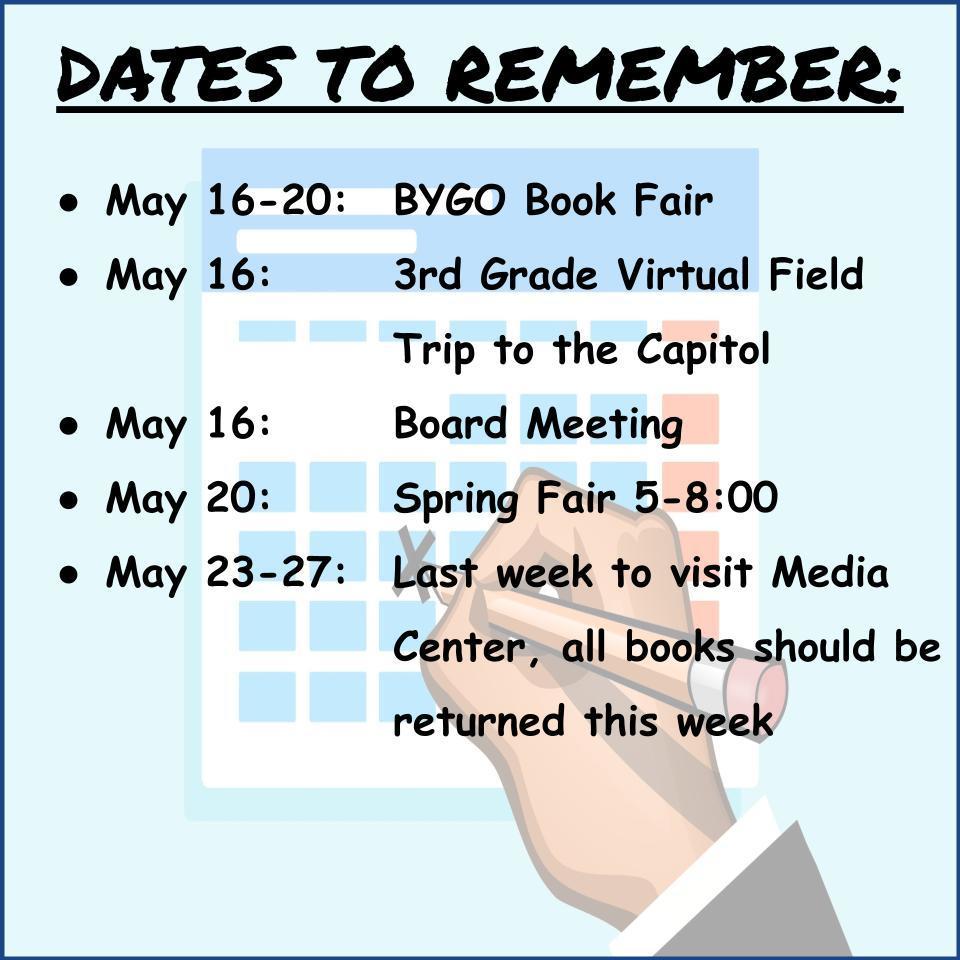 Join Lakewood for some baseball this summer! Come watch the United Shore Professional Baseball League's Westside Woolly Mammoths vs Birmingham Bloomfield Beavers game at Jimmy John's Field. Just a reminder, our students will be honored on the field before the 5:30 PM game on June 18th. The scoreboard will display our school name and the school will be recognized for all the hard work this past March. Also, immediately following the game, the students are able to run the bases. Check out the flyer for more details and secure your seats today! Here is the link for our game:
https://bit.ly/3uFtKrI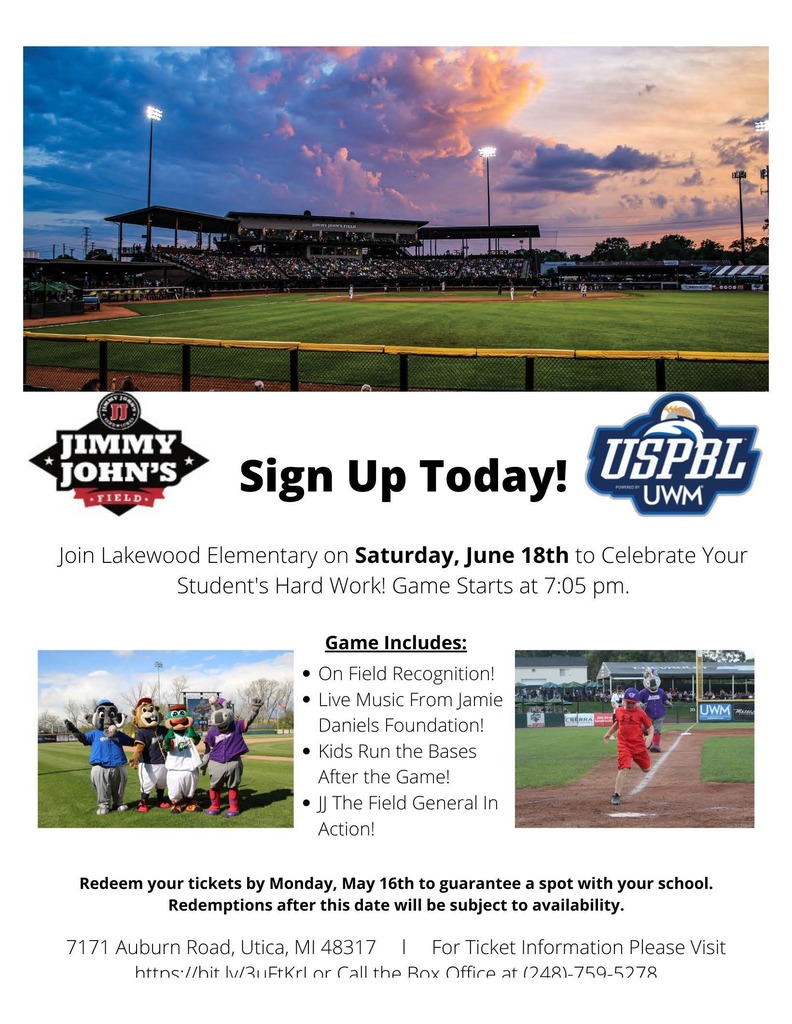 Dates to Remember as of 5/9/2022: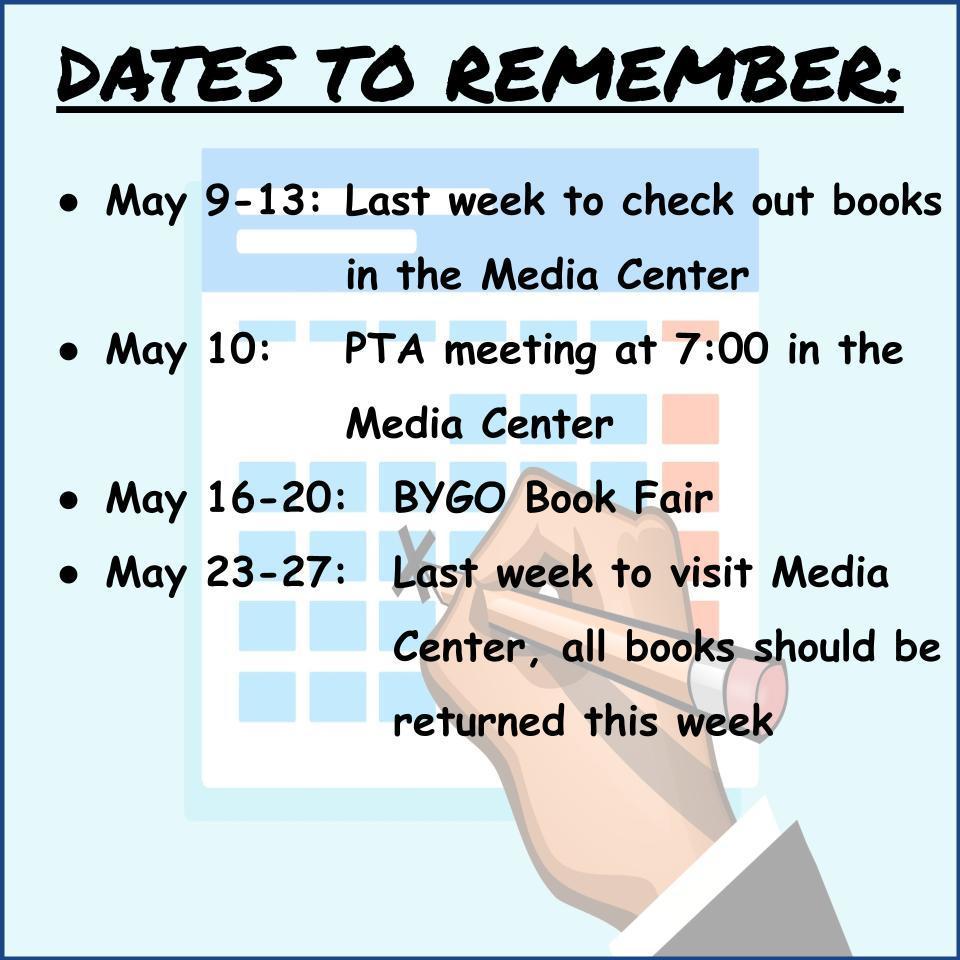 5th grade ceramic cake boxes on display in Lakewood Elementary.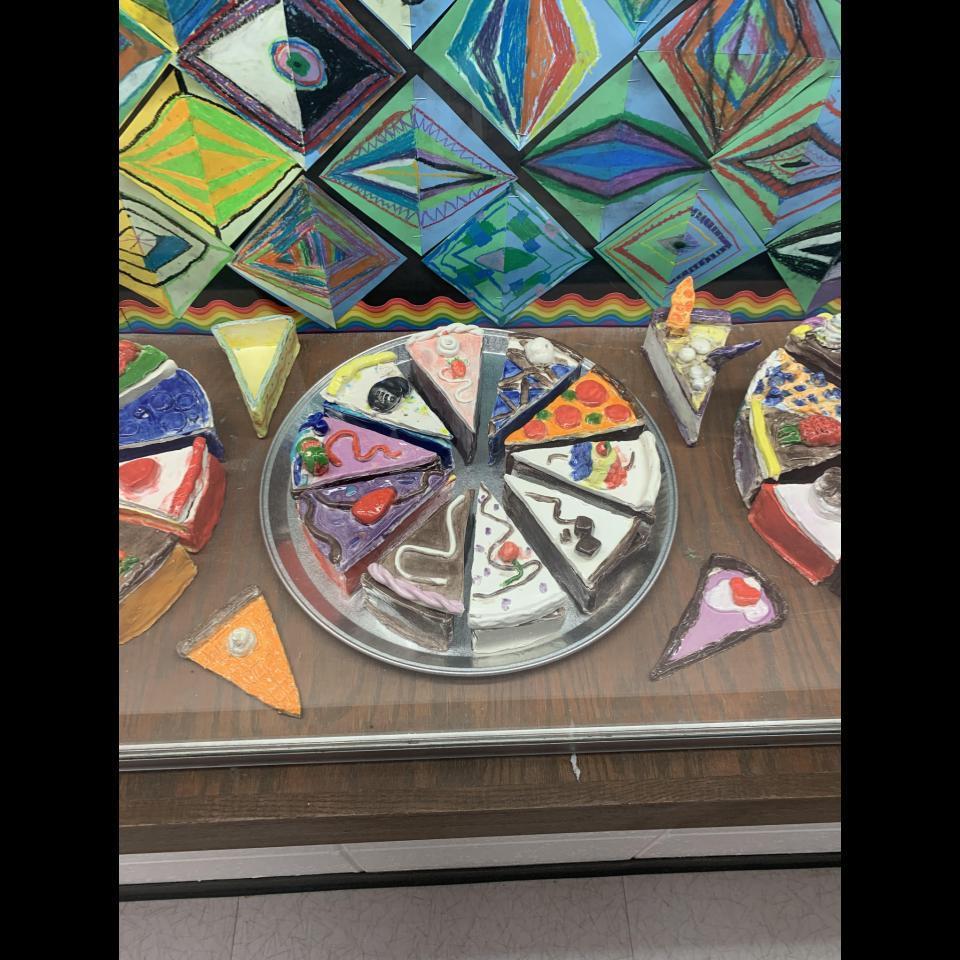 Last week, we had a pajama day to celebrate autism acceptance.

Lakewood's BOGO book fair is fast approaching. Fair dates are May 16-20. Everything is buy one, get one of equal or lesser value for free. There's no better time to stock up on books for Summer reading than now.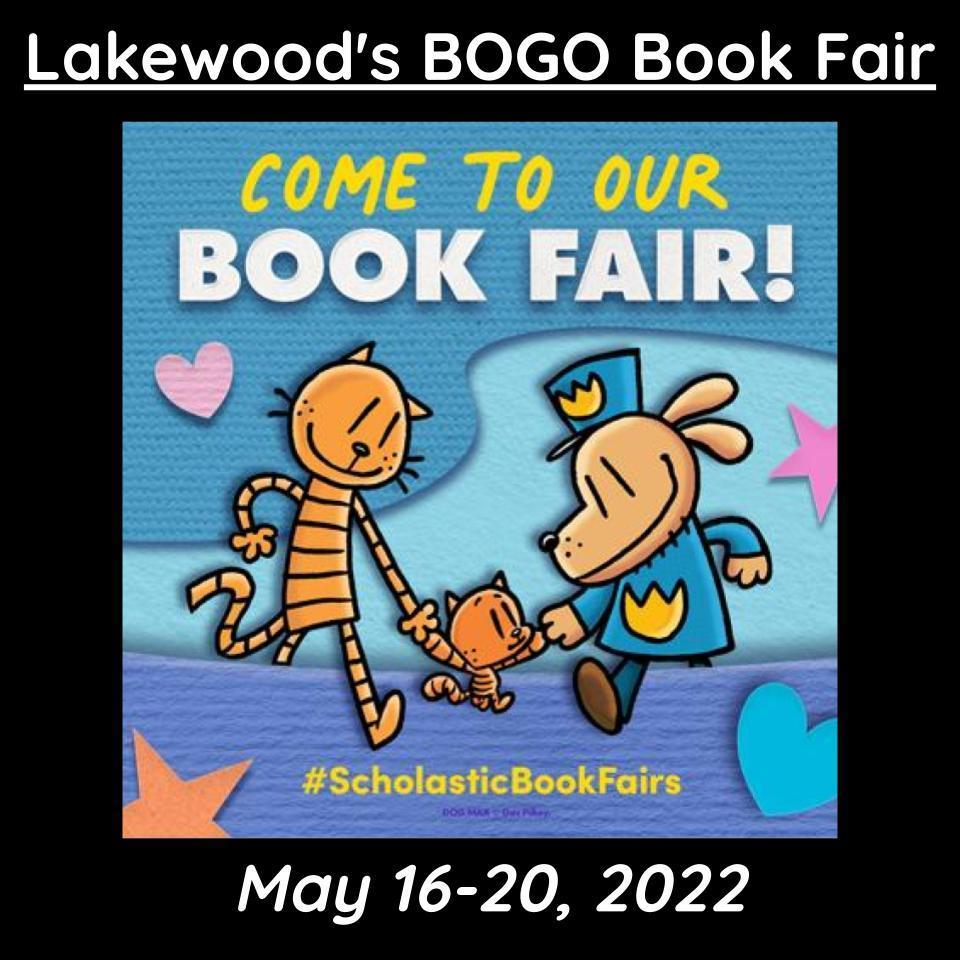 Today is the day, see you on the roller rink!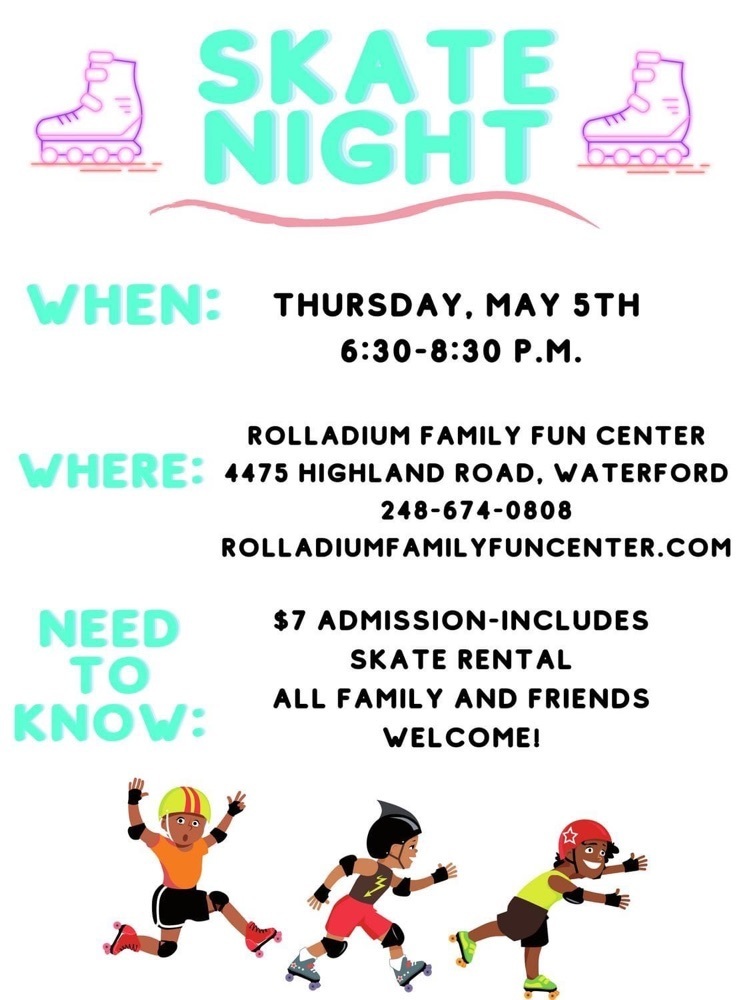 Thank you Lakewood PTA for spoiling our teachers and staff with you support and appreciation!

Important Dates to Remember as of May 2: May 02: Board of Education Meeting May 03: No School – Teacher PD Day May 04: Star Wars Day (May the 4th be with you!) May 05: 5th grade visits Middle School May 05: PTA Skate Night May 06: Last day to submit parent input letters for placement May 16-20: BYGO Book Fair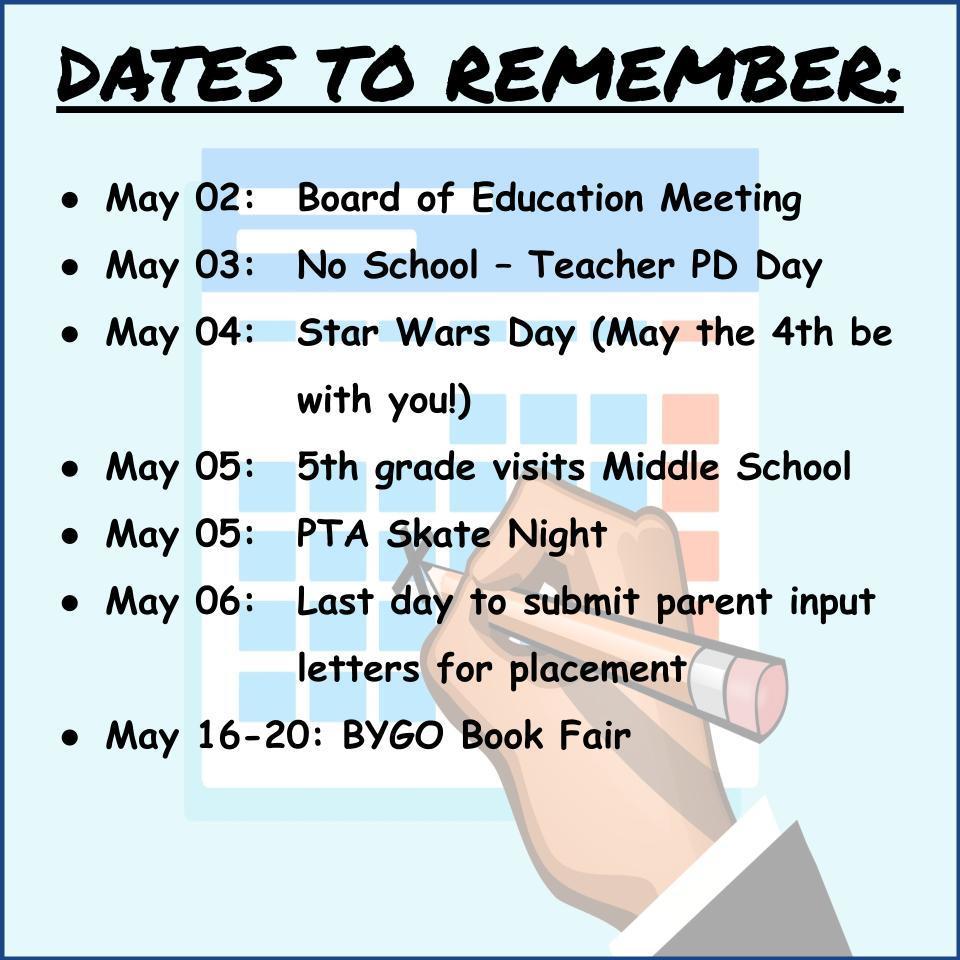 This week, the 5th graders worked on paper making in their art classes.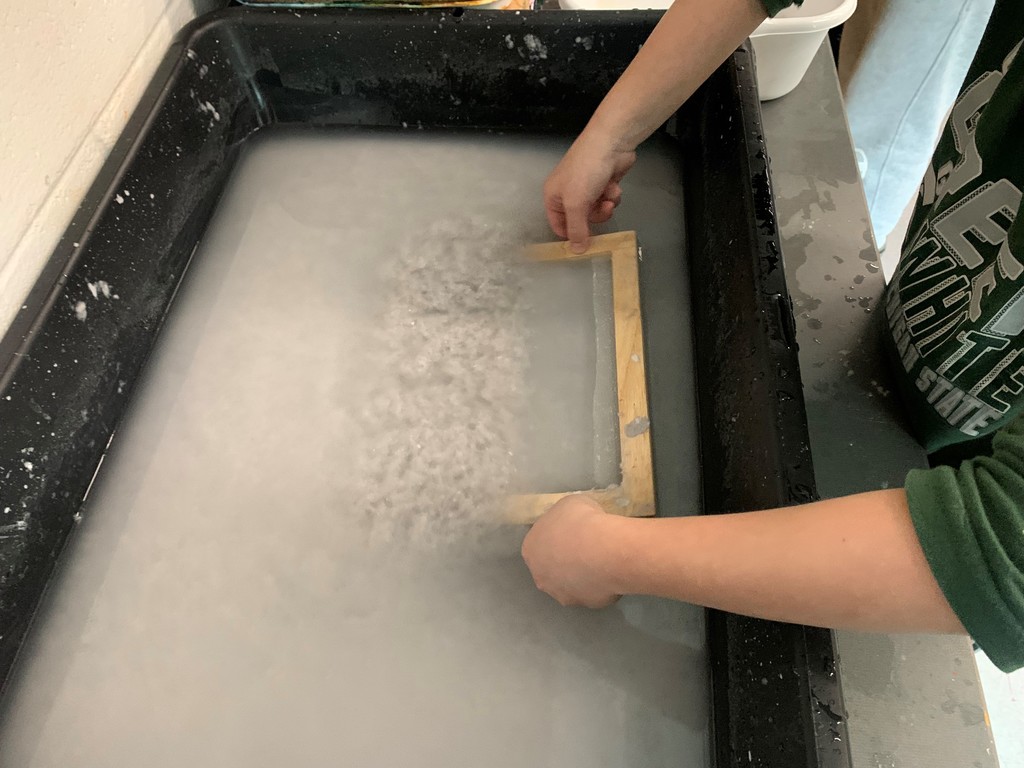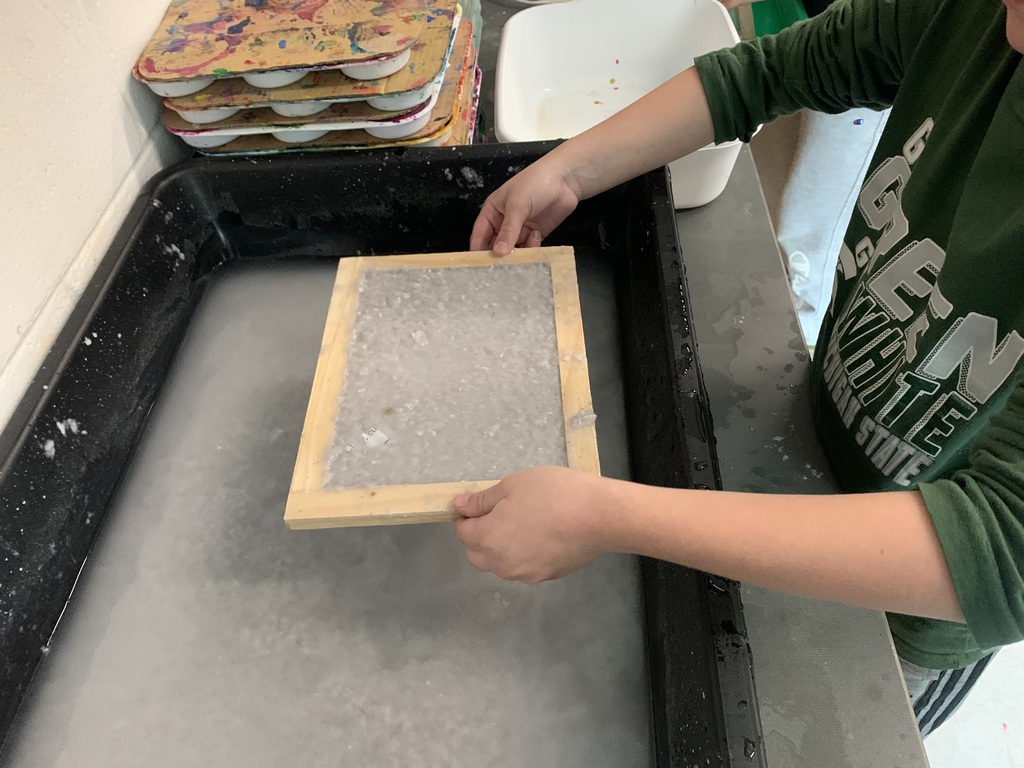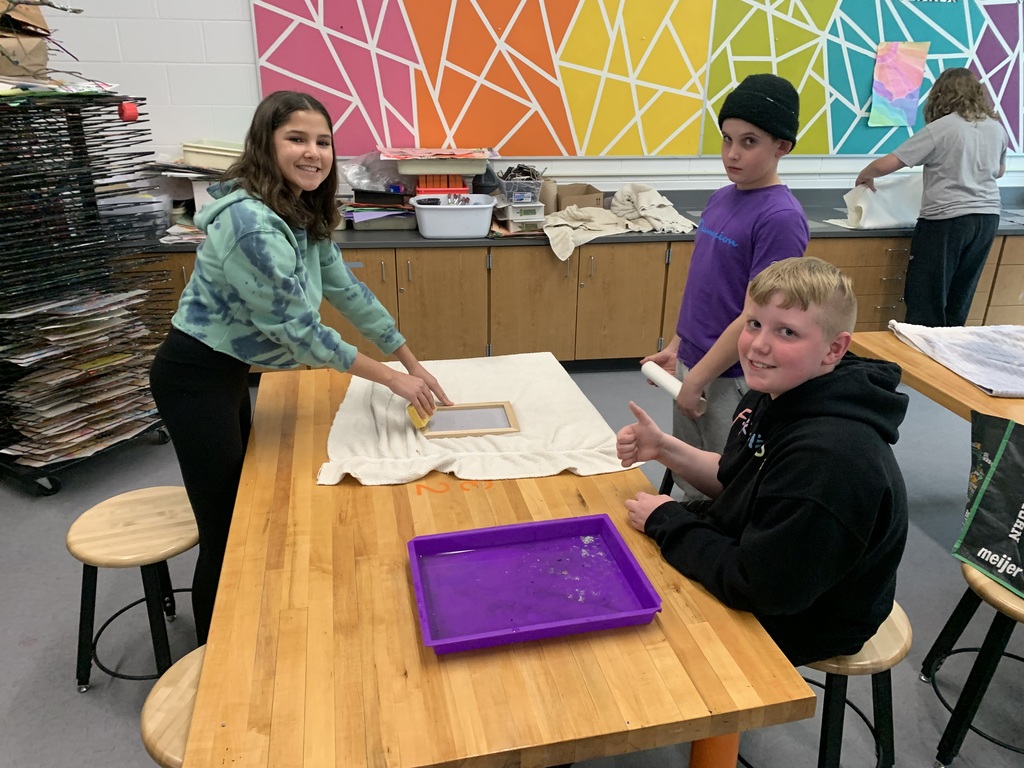 Beautiful displays made by students and Mrs. K for Autism Awareness ❤️🧩♾️

Happy Crazy Sock Day! Why the crazy socks? Lakewood is celebrating/supporting World Autism Month with a school-wide ASD acceptance spirit week! Here are Mrs. Anderson and Ms. Stachura's kindergarten classes showing off their crazy socks!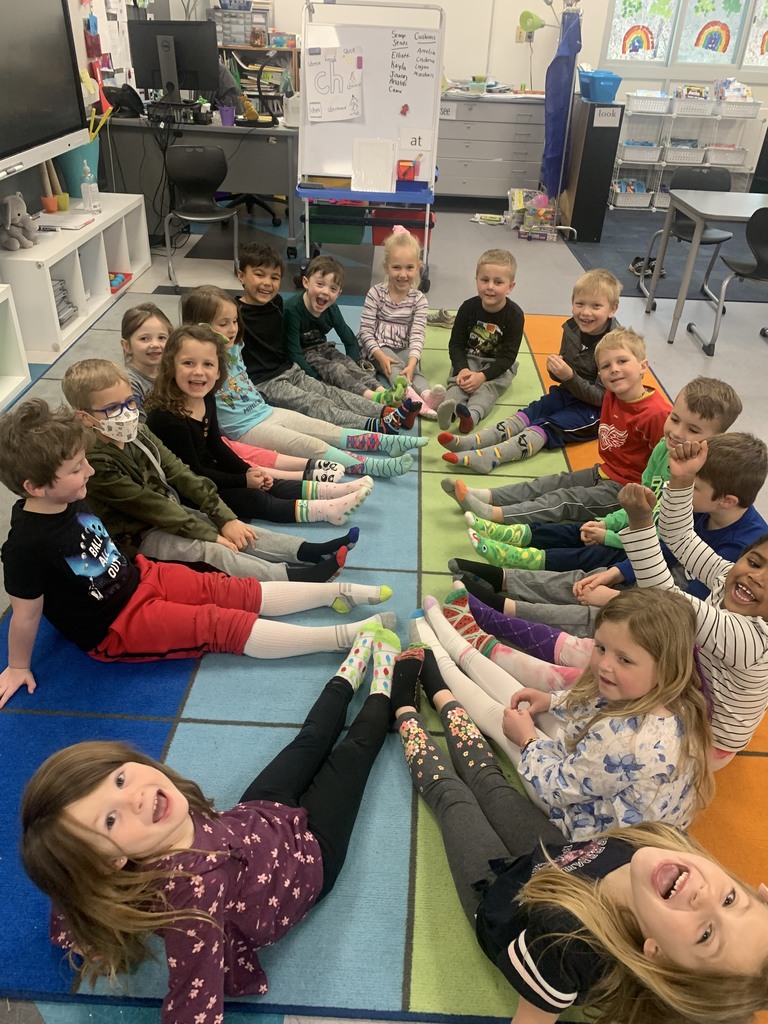 Good morning! Lakewood students will have the opportunity to listen to Bryan Chick speak today. Bryan is a Michigan Author who has written the very popular Secret Zoo series. The students will have a flyer going home with them today with the opportunity to purchase some of Bryan's books. Please ignore the date of April 15th as we had to reschedule Bryan from his original visit due to an illness and had already made the copies. The new date to return the order form is April 29th. The books will be delivered to Lakewood and then sent home with the kids by the end of the following week.

Dates to Remember as of 4-25-2022: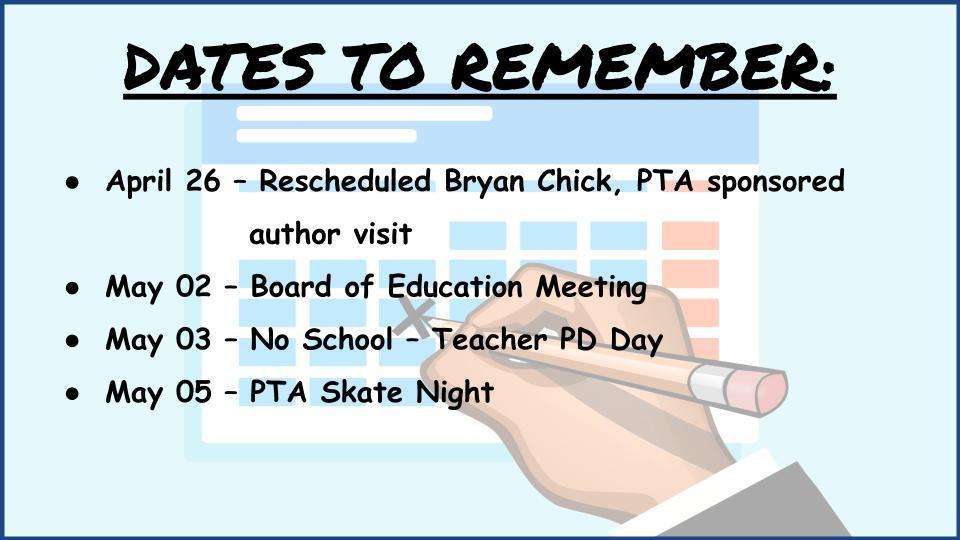 Second graders in Mrs. Lescoe's class celebrated Earth Day by reading books taking care of our planet. Then they wrote how they can show love for the Earth to make these awesome projects.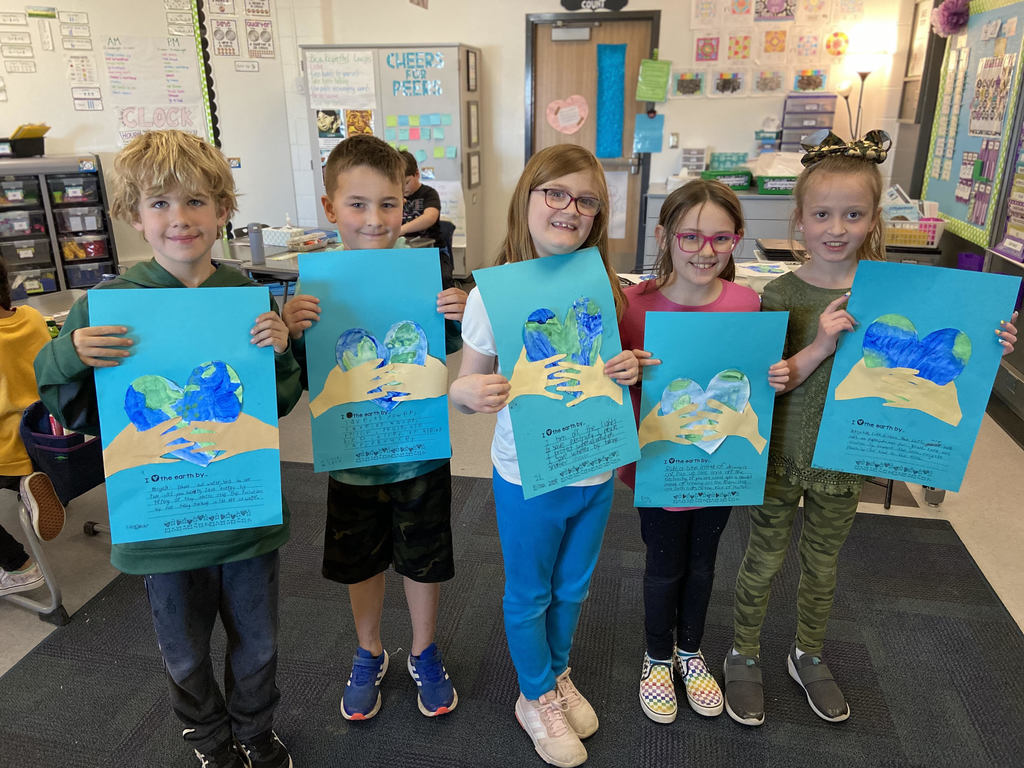 Catch up with the latest student stories, documents, and news updates. It's everything Huron Valley Schools, in your pocket. If you haven't already, download the app on Android:
https://bit.ly/3FMYzhl
or iPhone:
https://apple.co/3mzQjZk
.